Sting Strikes at Survivor Series
November 23, 2014

"It's showtime!"

That is usually Sting's calling card, however, for most fans at home and I'd like to assume some of those in the arena in St. Louis, we were all thinking, "It's about time!" Not in terms that it was time for Sting to make his debut, rather, it was in terms of us waiting for the rampant rumors to come true as the show was drawing to a close.

Long story short, the surprise of his debut was not that much of a surprise.

Rumors began popping up everywhere on Twitter Saturday evening that WCW and professional wrestling icon would make his debut at the 28th edition of the Survivor Series pay-per-view. The internet blew up more than when the picture of Kim Kardashian was posted last week. While the heads up was great for some fans and further increased interest in subscribing to the WWE Network and witnessing Survivor Series, did Sting's debut live up to the hype.

In my honest opinion, it did not. Do not get me wrong, I am a Sting fan and am happy that he has reached a deal with WWE, however with the Internet, the surprise factor in professional wrestling is dead. Imagine if those rumors were not posted and no one knew about his flight from Texas to Kansas City and how WWE officials picked him up in a car to drive him to the show. Imagine if there was not a subliminal hint in the poster featuring Seth Rollins with a smoke cloud over his left shoulder that could look like a scorpion.

Imagine if it was not so predictable.

To set the scene, after a series of eliminations for both teams and a "shocking" heel turn by Team Cena's Big Show, it came down to Dolph Ziggler vs. Kane, Luke Harper and Seth Rollins. Ziggler, more resilient than ever eliminated Kane and Luke Harper in exciting fashion. Was he destined for the big win? Not if Rollins had anything to say about it. Rollins picked apart the weary Ziggler and looked to be on the verge of victory until Ziggler's 8th wind kicked in and the two put on a brilliant display of athleticism and professional wrestling. It was not a typical "sports entertainment" ebb and flow. These two were toying with the audience and expertly so.

After a series of counters and counter-counters, Ziggler hit Mr. Money in the Bank with the Zig Zag, but Triple H eliminated the referee before he could count to three. Rollins' bodyguards and modern day version of the Stooges (Joey Mercury and Jaime Noble) got involved, but Ziggler defied the odds again, taking those two, along with Stephanie McMahon and Triple H out for a bit before hitting Rollins with another Zig Zag. Another ref, another two count, another moment of interference by Triple H.

The Cerebral Assassin would get physically involved and Pedigree The Showoff, rogue referee Scott Armstrong sprinted to the ring to secure Team Authority's victory.

"One....Two....Cue blackout."
---
He's Here
A scattered image video with crows cawing played throughout the arena as the audience waited to unleash a loud cheer for the Icon Sting. Several moments passed before the lone spotlight hit the center of the aisle and there he was, Sting, in the flesh.

"Woo," but in less of a Ric Flair tone.

In the middle of arguably the best Survivor Series main event in the past 10 years, Sting slowly sauntered his way down the aisle, took his time getting in the ring and had a painfully long stare down with The Game. The two looked like gunslingers from the Wild West, stalking one another as they circled around the ring. Eventually, Triple H would throw a punch, Sting ducked and hit him with a kick in the midsection. Follow that up with a Stinger Death Drop and out goes The King of Kings. Sting's last moment, was moving an unconscious Seth Rollins off of an unconscious Dolph Ziggler and placing Ziggler on top of the former Architect of the Shield. Referee crawls back in the ring.

"One....Two.....Cue Team Cena victory."

Sting, without saying a word, retreats back behind the curtain as Dolph Ziggler caps off an extraordinary, phenomenal performance proving why he is that damn good.

My issue with Sting's arrival is that it could have been done in a much less predictable manner. Ziggler and Rollins easily stole the show, there is no denying that and an argument can be made, which is my side, that Seth Rollins was the clear MVP of the Fall Classic. Let the athletes settle the match as they had the crowd biting with every fake finish, every two count, every reversal; everything. Ziggler and Rollins are the future and with a performance like they had tonight, WWE is in very good hands.

My fantasy booking, if you'd like to call it that, is to have had Ziggler win relatively clean, no more interference than was already committed. Triple H, Rollins, and the cronies would come in the ring and continue to beat down the Showoff. Cue the blackout, play the music with no video and once the lights are up, Sting is in the middle of the ring, holding the bat out, pointing it at Triple H and Seth Rollins. A frightened Team Authority would believe they have the advantage with the people, until the Stinger starts swinging and eventually eliminates everyone but Hunter.

Close out with a Death Drop on the Game and Sting standing in the corner as the crowd cheers massively for his WWE debut as Ziggler, Cena, Rowan and Ryback stood at the top of the aisle, staring into the ring at the Icon.

The debut was a historic moment in wrestling history, there is no denying that and I am not knocking that fact. I am simply fantasy booking a better, more momentous way for Sting to make his WWE debut. As you can see, there is not a lot different, but it is the little details that would have made his presence more meaningful and provide the full impact that it deserves.

The crowd was fantastic with their response and showed the legend a ton of respect. It was truly a moment that will never be forgotten, but in my mind, could have been slightly better.
---
Survivor Series Review
I will go on record and say that Survivor Series 2014 was a solid show up and down the card. The opening contest of Los Matadores vs. Miz and Mizdow vs. Gold and Stardust vs. The Usos was a very fun, entertaining contest filled with tremendous team spots and comedy. It was a great pace setter for the start of the show, despite a relatively flat crowd throughout until the closing moments were everyone one's favorite stunt double came away with the victory.

Match Rating: 3/5

The following match, however, was absolutely painful to watch. The traditional Survivor Series elimination tag team match featuring Natalya, Naomi, Emma, and Alicia Fox vs. Paige, Cameron, Summer Rae, and Layla was filled with countless botches, horrible athleticism and was overall slow and sloppy. Paige was a bright spot in the match, but not for her in-ring moves. It was her comments that could be overheard that were the most entertaining part of that match. Quotes like "Get over here you stupid cow!" directed towards Emma or when she saw Summer Rae emulating her knee strike move. "Yeah, I saw it. You're stupid." Also, her kick on Natalya was pretty solid. Thankfully though, the match did not go further than a Team Natalya sweep.

Match Rating: 0.5/5

Dean Ambrose and Bray Wyatt was exactly what I thought it would be. It was physical, it was different, and it showcased just how good these two athletes can be when given the time to shine. The build-up to the match left many fans desiring a quality match to make up for it and the two young stars did. Ambrose was ultimately disqualified but his post match temper tantrum that featured tables, ladders, and chairs (wink wink) won over the St. Louis crowd and set up the inevitable rematch for the December pay-per-view.

Match Rating: 4/5

A typical throw-in match, Adam Rose and the Bunny defeated Heath Slater and Titus O'Neil. The Bunny came away with the victory over Heath Slater. Not much more needs to be said about that contest; overall just a time filler.

Match Rating: 1/5

AJ Lee and Nikki Bella...where to begin. Well, there was not much to this match. The bell rang, Brie Bella kissed AJ Lee, yes, you read that right and yes, I don't mind if you go look for the video of that right now; I don't blame you. After the lip-lock, Nikki Bella would hit AJ with a wicked forearm and then finish her off with the Rack Attack to become the new Divas Champion. What was a bit shocking was Brie Bella's joyful reaction to her evil sister winning the belt. An underrated heel turn on the night.

Even though it only lasted less than a minute, it was miles better than the looooonnnnnnggggggg Divas match earlier in the night.

Match Rating: 2.5/5

Team Cena vs. Team Authority lived up to hype in my opinion. Who would have guessed that Mark Henry would be eliminated after one punch by the Big Show? Who would have thought Ryback would be the first elimination on Team Cena after a month of attempting to get The Big Guy on either squad? Did anyone, anyone, think John Cena would be the third member of Team Cena eliminated and not make it to become the lone survivor? How about Big Show's turn? What about Erick Rowan and Luke Harper's fine performances?

Overall, this was clearly the best match of the night and there are not enough words to describe how damn good Dolph Ziggler and Seth Rollins were all night long. Truly a special moment for those two.

Match Rating: 5/5

Survivor Series 2014 did not feature a ton of match-ups, but did create an exciting event. Fans will complain that it was boring and that some of the match-ups were unnecessarily long or just not needed. Those same fans, that said the show sucked will immediately jump on the Sting bandwagon and say that it was "the greatest pay-per-view ever" or "the greatest pay-per-view ever on the WWE Network" which is simply a claim to make room on the bandwagon. It was a good show, but nowhere near the quality of Wrestlemania XXX or SummerSlam. It was not even as good as last month's Hell In A Cell, but it was a strong showing that has to bring in viewers with the debut of Sting.

Overall Rating: 3/5
Powered by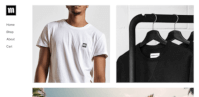 Create your own unique website with customizable templates.