Foundations (2011)
​Original Story

February 27, 2016
*Originally written April, 2011*

Again, another somewhat angry write-up, "
Foundations
" is me finally realizing that my perfect world was crashing down around me. The term of foundation is just that; the surface on which everything else is built and if the foundation is not as strong as it needs to be, everything will cave in; it's just a matter of time.

There was a brief hiccup in the relationship at this point. We had the first fight and it hit me then that she may have been looking for a way out. Again, this is 2011 Adam's thinking. Five years later, I've not stayed in this "conspiracy theorist" mind set. Anyway, this piece was written probably a week or so afterwards as I was frustrated by giving my all and not feeling like it was appreciated. At the time, I thought I was rewriting the textbook on how to be a good boyfriend. Realistically, I was the example of what not to do.

The imagery in this screams TOOL music video. Dark, eerie, and potentially in claymation.

The two lines before the concluding two lines is a shoutout to Ligeia and their song, "
I'm Sorry You're Ugly
"
. It's molded in my own way, but their version is probably a bit more impactful. I highly recommend you check out the song and the band; one of my favorite acts of all-time.

Lastly, this leads into the final segment of this collection. The end and the aftermath. Memory lane is coming to a more vivid end for me, but some of the better pieces still remain.

​Without further adieu:
Foundations
There are cracks in the walls
And whispers are heard like small footsteps,
Faint and barely even there;
Misleading in where they lead.
There are scratches on the floor,
Like fingernails in the flesh
Dug and prominent
Giving minor signs of battles fought in the past.

Broad pictures may speak a thousand words,
But detailed imperfections speak what's necessary.

Framed in shame,
Your false grin is immaculate.
A war of words
Between your head and heart have
Rendered you motionless.
A mirage of love once lost
Haunts every inch of this broken house.
So destroy what you think you see,
Compared to what you know.

Smile for the camera, Sweetheart,
Your palace is falling apart.

​Broad pictures may speak a thousand words,
But detailed imperfections speak what's necessary.

​-end-

Powered by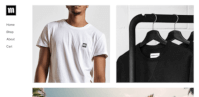 Create your own unique website with customizable templates.