Heart In Hand- A Beautiful White
November 10, 2014
Heart In Hand have created a masterpiece. How's that for an opening sentence?
A Beautiful White
is the band's third full-length release following
Only Memories
and
Almost There
. This album transcends genres and displays the versatility of the UK melodic hardcore juggernauts. While Heart In Hand made their name off of brash, in your face emotional anthems such as the titular track from their debut, "Tunnels" and "Home/Sick," just to name a few. These kind of songs were the band's calling card, dare I say their main appeal.
However, with the newest release which came out one week ago, those preconceived notions of Heart In Hand as another melodic hardcore band that was pigeonholed in the genre can be thrown right out the window. The quintet shatters those past criticisms and delivers what is honestly a top five album of the year.
"Mae," the opening track of the 12-song album, is a pulsating tune that immediately grips the listener in with its staccato drumming and catchy guitar rhythms. It has a sophisticated sound to it, not falling into the normal chugging and predictable patterns a hardcore song can fall into. That is a key aspect for nearly all of the songs on this CD.
Arguably the best song on the album is the title track, and second in the line-up, "A Beautiful White". It tells the story of a lover trying to cope with what went wrong in the past, but also not accepting all of the blame. There is a recurring theme throughout the genre that the storyteller is the one who always messed up the relationship and has to accept all of the blame or was completely blindsided and cannot understand why they feel the way they do. This song, which is beautifully constructed and performed, is a combination of both aspects while directing questions at the other person involved.
When vocalist Charlie Holmes screams over a hushed band, "
And I'll be okay
," extending the note on the last word, goosebumps run up the back of your neck. The chorus of "
You can't pretend that you never loved me/You can't deny that you'll always care/So go ahead and lie to yourself/You are the reason I doubt myself everyday,
" is chilling and so emotional. Such a powerful song that resonates with you for a long time.
Throughout the wonderfully weaved tapestry of heartbreak, angst, and maturity shown throughout the record, there is not enough to be said about the instrumentation. Each guitar is clean and crisp, the drums are not just chugging along; they have an established, popular sound to them. The bass accentuates each song tremendously as the band can change tempos on the drop of a dime and control the song.

In the past, Heart In Hand would resort to writing similar sounding songs, blending sounds and not diversifying their portfolio, for a lack of better terms. With A Beautiful White, each song has it's own distinct characteristics, whether it be the group vocals on "Colours and Chemicals," or the building intensity in "Crying Shame." Maybe it's the piano interlude "..." that allows the listener to gather their breath after four monstrous songs in succession. Perhaps it's the viciousness in "Poison Pen Letters" or the haunting vocals to begin "My Heart Belongs In Denmark", a personal favorite, over a repeating, distorted guitar riff.

"'Can you keep a secret?'
I know I can't.
Words fall from my lips like waterfalls
We drown in what we call 'love'"

Fret not fans of breakdowns or fast-paced jams, this record includes them as well, none better than "Poison Pen Letters" that ends with one of the best breakdowns I've heard in recent memory. The secret to any good breakdown is the build-up and the build-up to the final thirty seconds of this song is phenomenal. Short snippets of drums and guitars to increase tension and the emotional vocal switch to turn on the intensity is perfectly timed.

One of my favorite songs on the CD is the following track, "Last Night." It has a rock sound to it compared to a metal song. The music is something you could hear on the radio nowadays and has a beat that is easy to rock your head to. About a minute into the song, slightly after, there is a slow melodic part that pops in that reminds me of Pianos Become The Teeth's song "Such Confidence". The dream-like wavering guitars creates a whole different mindset in a matter of two notes and puts the listener into a calm state.

Each song is filled with fantastic lyricism and an evolved, matured vocal delivery from Holmes, trading in the high pitched screams and low growls, for a combination of yelling and singing. It is a daring venture into a more clean and crisp vocal that is not as unintelligible as it was in previous releases.

Closing out the CD is "Jasmine" that wraps up the emotional ebb and flow of this masterful release, climaxing with the line "All I have is this memory of you" as the music trails off with a riff and an echoing guitar slowly fading away. Quivering.

Needless to say, Heart In Hand has absolutely delivered an album that will be talked about for years to come. It is very difficult to follow up previous albums, seeing as they were first impressions, but A Beautiful White is the mark that will be the most noticeable. Phenomenal musicality, even better vocals and lyricism; Heart In Hand is no joke. They are not a band that is looking to be grouped in with others. This album has set them apart and if this is the future of the band, it is trending upward at a tremendous rate.

Rating: 10/10

---
---
Track Listing
Mae
A Beautiful White
Colours and Chemicals
Crying Shame
...
Poison Pen Letters
Last Night
Regain. Recover. Reprise.
New Years Eve
My Heart Belongs in Denmark
Never Again
Jasmine
Powered by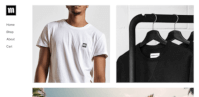 Create your own unique website with customizable templates.