Come Back To Me
February 8, 2015
We have seen horror movies where the killer is continuously brought back to life after dying. Think Freddy Krueger, Michael Myers, and Jason Voorhees as the Mount Rushmore of that category. But, how many horror movies do we see where the
victim
is brought back to life only to die in new, more gruesome ways? Lastly, how many times does
the killer
breathe them back to life?
That's what we get when watching the 2014 Paul Leyden film,
Come Back To Me.
The story revolves around three central figures: married couple Sarah (Katie Walder) and Josh (Mark Passmore) and their awkward introverted neighbor Dale (Nathan Keyes).
Dale, as a young boy living in a broken home, came home one night to see his mother horribly mutilated and her body parts spread all over her bedroom. In an attempt to say his goodbyes, Dale gives his mother a kiss and miraculously revives her in perfect form. The gift of regeneration and revival is one that Dale wields with reckless abandon.
When Sarah and Josh move in next door, Dale finds glaring similarities in Sarah compared to his mother. He takes a liking to her and changes the married couples lives forever when he gets involved.
Sarah, recently recovering from a disastrous car crash, suffers from lucid nightmares and anxiety attacks. After living in their house for several weeks and having increasingly more vivid and intense dreams, she decides to install security cameras in her house. What she sees is almost impossible to believe, let alone comprehend.
---
Based off of Wrath James White's "The Resurrectionist" novel, Come Back to Me is an intense psychological drama and thriller. The suspense of Sarah's dreams and tension between all three main characters throughout the film is brilliantly built.

Dale is a polarizing character. In the first five minutes of the movie when you see the atrocity committed upon his mother and the life he's had to lead since then, you feel sympathy for the serial killer/resurrectionist. Later, however, when he begins to torment Sarah and Josh's relationship, he becomes a bit more easy to dislike. His character has depth and versatility; something that lacks in most antagonists.

The film is shot beautifully and its pace is fine. There are some moments in the film that are a bit drawn out and others that could have been further expanded. The conclusion of the film has too many back and forth moments that takes away from the impact it could have had, however, the twist is quite clever.

Overall, this film may develop a cult following, but it feels too polished. The setting, the characters, the story itself is a bit too "Hollywood" for a cult classic tag. It is enjoyable and certainly unique; a good time for horror movie fans looking for something new other than paranormal and vampire films.

Rating: 7/10
Powered by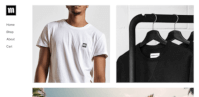 Create your own unique website with customizable templates.