Quiver (2011)
​Original Story
February 27, 2016
*Originally written November, 2011*

This piece has a very unconventional backstory to it. Bare with me.

The words were put on paper in November several years ago on a very, very cold day at my university. The wind was whipping and winter was coming much earlier than anticipated/wanted. I remember seeing all of these underdressed students shivering and snuggling together in cliques to stay as warm as they could. I remember shaking as I was walking to my class, knowing that it was bound to be warm inside a building rather than by the fountain in the middle of campus.

Plus, at the time, I wasn't in the mood for an embrace.

Now, this is where the story takes a hard-left. Sitting in class, I had a flashback to a moment in the summer where she had come to stay with me for a few days. I was always excited for her to visit and was stoked about the day plans I had already come up with, including kayaking, bike riding, and some rock climbing. My old job was pretty cool looking back.

​The night before we were going to do all of those activities, she was in horrible distress. The bed was shaking and she was huffing and puffing all night long. I couldn't sleep anyway, but I had asked her what was wrong. I thought she was suffering horribly from food poisoning or came down with a cold; hell, I'm no doctor. She later told me, after she stopped grinding her teeth, that it was "that time of the month". Now, I feel dirty saying that, but to give this piece proper context: there you go.

Other writers have written about much worse.

Now, obviously that's not uncommon and it's not like I didn't know that that kind of internal pain could be caused, but I had never seen someone go through it and for some odd reason, that night has stuck inside my head for years. I was incredulous to what I was experiencing.

Early that morning, as the sun was coming up, we went on a run as she said that exercise helped. We jogged up and down my road, accumulating about a mile and she said that that had helped. From that moment on, from what I could tell, it wasn't nearly as bad.

While this piece was based off of a physical moment, it does not represent the true meaning. The meaning is overcoming. It's about strength. It takes a bit to get to, but the overall message of this piece is the ability to forge forward no matter what is happening and that sometimes, going at it alone is the only way you can do it.

The last verse of this piece sums up the conversations that we had had for months about the pressures put on to her by her family, by herself and some of the heartbreaking stories of her past. I don't know if there were any other nights of physical pain that she had ever experienced, I never knew of any. But the other nights aforementioned proved her strength and to this day, she is the strongest woman I have ever come across and I don't think that's going to change.

Without further adieu:
Quiver
Under the covers,
You shook as if
You had been left alone
In the cold without a coat.
I'll never forget
The pain you were going through.

Grinding your teeth;
Falling fetal.
Moans of distress
Escaped your perfectly pursed lips.
I'll never forget
How much I wanted to help you
In anyway I could.

Leaning over,
I kissed your neck
And whispered,
"What do you need?"
I'm not sure if you heard me
Or chose to ignore me,
But you didn't say a word.

You didn't say a word.

Your toes curled.
Your veins bulged.
Your hands grasped
Your stomach so tight
I never thought you'd sleep that night.

But looking back on you and your life,
What all you've been through,
You've fallen asleep through much worse.

​-end-

Powered by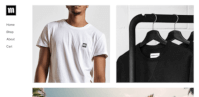 Create your own unique website with customizable templates.