Delay (2013)
​Original Story

February 21, 2016
*Originally written April 11, 2013*

"Delay" is a song that was written completely on the fly. One-shot, one-take. No edits or thinking. My fingers were flowing as typed this out on my original Tumblr page. At the time, this absolutely coincided with the woman from my post,
"
'I Never Thought I'd Catch A Writer With No Words
'".
There was feeling of helplessness, knowing I could not do more than I had already done and vice versa on her end. This is a selfish song of wanting what you can't have and not being able to handle it.

Being an only child, the stereotype is mostly true on my end, if I'm being honest. I don't get told "no" a lot or not get what I want. I'm not spoiled despite the last sentence, but I have had a pretty good success rate in getting what I'd like to have. Be it action figures, WWE PPV's when my family was struggling to pay bills, or new technological trends, I've been fortunate to have received what I have in my life. But not getting her...that one's left me a tad bitter.

Truthfully speaking, I haven't read these lyrics since that day. But, in my most recent readings, the more I understand the structure and word choice, this song is about just that; not getting what you want. While at first it was about a girl, it ultimately has had a much deeper and current impact on my life. It's a song of longing for better and not understanding why you can't have that.

In my case, I absolutely believe I'm qualified for any job I apply to in my desired career path, yet why haven't I received many phone calls or interviews for those positions? And the ones that I have received, why haven't I landed the job? Or why am I where I'm at socially when I believe I do all of the right things? It's a song that asks questions that quite frankly, none of us have answers to, but can all sadly relate.

So, in closing, while this song was originally yet another sappy romantic song, it's turned out to be a lingering sense of helplessness that has led to so much frustration over the last couple of years. Funny how perception changes.

​Without further adieu:
Delay
Sometimes,
Some things just make too much sense.
There are no parallels,
But two straight lines
That cannot be separated,
Not even by the slightest variation.

Sometimes,
Those things just never commence.
There is no rhyme or reason,
But a silent discord
That cannot be heard,
Not even with the most attentive ears.

It's the danger in wanting what I can't have.
The stars are aligned, what more could I ask for?
But the power is all in your hands; you hold the cards.
There is nothing I can do.
It's all up to you.

It's you.

-end-
Powered by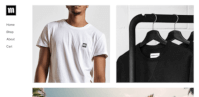 Create your own unique website with customizable templates.