Silent House
November 2, 2014
There has always been a fear of being in a big empty house by yourself. It is one of those fears that is just instilled in you at a young age. It's the creaking floors, the half-opened doors, the sheer emptiness itself is terrifying. It only gets worse when personal issues from the past arise and haunt you as you try to escape.
Silent House
is a nerve rattling depiction of what happens when all of these circumstances come together. Sarah (
Elizabeth Olsen
) is moving out of her family's lake house with her uncle and father when the horror begins. On a dark, dreary day, Sarah is visited by one of her childhood friends, Sophia (
Julia Taylor Ross
) on the porch. In a back-and-forth conversation about the past, Sarah is left feeling uneasy by the bicycle riding brunette.
Throughout the day, the sun gets lower and the house becomes creepier with knocks on the walls and floors, slamming doors, and a mysterious presence walking the halls. Sarah is left to face the fear all alone as her father and Uncle Peter (
Eric Sheffer Stephens
) leave her unattended. As she hides from the terror, eventually, after several startling encounters, she finds her way outside. While running down the street to escape the house, Peter returns to see his distraught niece.
---
Sarah, feeling lucky that she has run into her uncle, is suddenly faced with the horrifying fate that she must return to the house. As Peter checks out the house for the accusations Sarah brought up, even more terror is brought upon. After returning to the house, the film's last fifteen minutes will leave both Sarah and the audience rattled to the bone.

With its continuous take style and Elizabeth Olsen's electrifying performance, Silent House is an October favorite that is sure to haunt for many years to come.

Rating: 8/10
Powered by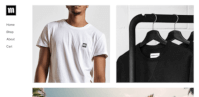 Create your own unique website with customizable templates.