These February Nights (2012)
​Original Story
February 27, 2016
*Originally written February 14, 2012*

I remember the day specifically because it marked the one year mark when everything had changed. Valentine's Day, 2011 was the night that changed it all and may be told at some other point.

A calendar year later, everything had changed for the worse. Alone, in my apartment with The Saddest Landscape's "The Sixth Golden Ticket" playing through my iPod on repeat, I penned this closer.

I said in the last post that this was the end, the one that wrapped it up and it does just that. I talk about the stars, the hope we had at one point, the joy we once shared--albeit brief. I sum she and I up in only a few moments that made the relationship special. It's a song that signifies the end, but also the reluctancy in finally accepting that it's over.

Truth be told, every year starting in late January, I feel down. I don't think it's uncommon for those who are single to feel that way during that time of the year, but I always find it funny how that never bothered be before I met her and became close with her. Since 2011, every year, the first three months are rough.

As I've reread this piece, I've changed my stance on the last verse. It's not that I don't want that, but I know that I'm a selfish person. I can't do one more time. I would need more.

​Without further adieu:

These February Nights
My mind is so far lost in the stars;
The same ones we talked about
On endless nights.
Bound together by
Comforters and smiles,
No light shone brighter
Than our eyes.

A soundtrack of laughs,
Sighs and silent screams
Filled the empty spaces.
Arms embraced as
We held onto what we
Were most scared of.

(Interlude)

I just want to see your blue-green eyes.
I want to hear your whisper.
I want to hear your laugh.
I want to feel your breath on my tear stained cheek.
I want to feel your fingers run through my hair.
I want to know you still care.
I want to be beside you.

I just
I just want
I just want you,
I just want you
One more time.

-fin-

Powered by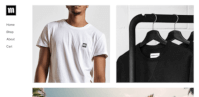 Create your own unique website with customizable templates.