Carlisle Nights (2012)
Original Story
February 27, 2016
*Originally written March, 2012*One of the few that when I reread, I still get a tad bit emotional. This piece is one of my favorites of the collection because of some of the wordplay, the constant contradiction, and the fact that it gives this story a setting. Now, not all that had happened was in this city, but the latter portion of the main events did.

The area was beautiful and I visited out there three times. The first time was great, just getting a lay of the land and experiencing a new scenery, along with meeting friends and family. The second time was a brief visit before my flight to Madison, Wisconsin (Chapter 7). The last time is where this piece takes place.

​It was roughly about a two weeks before the break-up. Mid-June. Things had been really rocky for a bit and we were trying our damnedest to compromise and give this its best possibility to survive. When I got out there, I immediately knew that those few days were going to be testing. Greeted with a half-hearted smile, deep down I felt awful, but I put on my best face. We did have a good time during the day, driving around and checking out some shopping centers. We took a hike up a mountain that was connected to the Appalachian Trail and then we stopped at a beach on probably the coldest day that summer.After we ate dinner, her dad had left the house and we were alone. We watched
Eyes Wide Shut
and then sat in the house with nothing else to do. Contrary to what you may be thinking, no. It never happened.

We decided to walk around outside. Surrounding her house was a looped road lined with houses that ultimately circled back to the main road. The word for what that exactly is has escaped me at the time, but it's something similar to a community. Nonetheless, we walked that loop and started out with a nice conversation until I dampened the mood by saying how I know she didn't appreciate us like I did and me walking several steps ahead.

​At this point, I was completely childish and lower than immature. It was around 2:30 A.M. when we sat on the curb adjacent to her house. We had an emotional conversation about how she was trying her hardest and how I didn't believe her. She shed some tears and I was tearing up. God bless her and her patience with me. She asked if I wanted to go on a drive. Reluctantly, I agreed.

I had made her a mixed CD a month earlier that she still listened to. The first two songs were Emarosa's "
The Past Should Stay Dead
" and Circa Survive's "
The Great Golden Baby
"--also known as "
Juturna
". We listened to those tunes without speaking. After they played, she turned the CD off and the radio was filled with static. Before she changed the station, I muttered, "Wait." She pulled her hand back and I closed my eyes. I can't explain it, but that static took me back for some reason and I felt like a young kid. I truly believe it is because we as a society have become so accustomed to MP3's and CD tracks that we rarely listen to the radio to hear that audio imperfection.

She was staring at the road. I was looking out the window at the fields flying by.

We later returned to her house and did not talk much more that night. We were drained as we both knew we were in auto-pilot with the relationship. We curled up in bed. She rolled to her left. I rolled to my right. The fan couldn't be any colder than the space in between the sheets and hidden underneath our eyelids.

Without further adieu:
Carlisle Nights
Under the stars
Of Carlisle nights,
The soles of our souls
Wore thin in the thick air.
The silences;
The words not spoken
Kept our tired eyes
Open long enough to find
A feeble form of absolution.
​
With windows cracked
Driving beneath Carlisle lights,
The static from the radio
Was more clear
Than the path we were taking.
The green lights;
Stop signs,
Kept our beating hearts
Wanting, desiring
Discovery for what lay ahead.

The melody of the winds
And swaying branches
Lulled us to an early morning sleep.
The sheets stale from our sweat,
Room spinning from
A cycle of emotions.

We made a wrong turn somewhere
With windows cracked driving beneath
Carlisle lights,
Under the stars of Carlisle nights.

​-end-
Powered by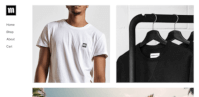 Create your own unique website with customizable templates.